WHY cris light
CRIS LIGHT is a motor vehicle handler up to 35 q.li.

Cris Light is an ideal handler for workshops, car showrooms, garages and antique car restorers.
Robust, practical, versatile. Thanks to its small size, it allows agility to maneuver even in tight spaces.
Cris Light is a product of Blueinventions, which arises from the need to move vehicles inside premises where it is forbidden to start the engine.
Studied and designed by a team of engineers and specialized technicians. Nothing has been overlooked: from the pleasant design that distinguishes the machine to the sophisticated technology that it contains within itself.
Cris Light is an Italian product: design, assembly and individual components. All made in Italy.
cris light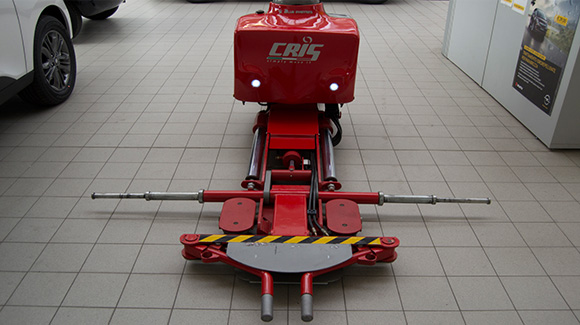 move cars in the workshop
SIMPLE AND SAFE
Simple and safe to use, it does not require any physical effort.
EASY TO TRANSPORT
Easily transportable thanks to its small size.
put order in the showroom
Cris Light also makes it possible to stow vehicles while minimizing the spaces between them.

The Blueinventions, offers its customers post-sales technical support through partners or directly, providing all necessary assistance with highly specialized personnel.
Spare parts are supplied through authorized partners or directly from Blueinventions.
Our product is guaranteed 18 Months.